Everything You Need,
From One Single Source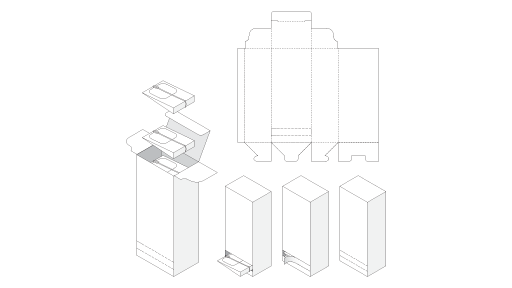 At PAX Holdings Global, we can custom design labels, graphics, and packaging solutions. We work with your marketing and production teams to design secure, attractive, cost-effective packaging for your products. We review design options, provide mock-ups and cost comparatives for product and create the final production specification to ensure the final result is a success.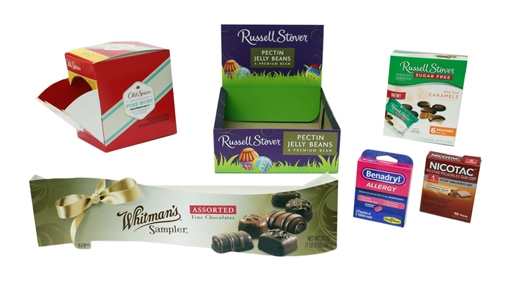 In retail packaging, folding cartons are used across a wide range of applications for their versatility, rigidity, and economic effectiveness. Our folding carton capabilities possess an extensive range of options to meet or exceed your carton requirements. We offer high-quality printing graphics solutions, as well as digital, flexographic, or offset printing. Additionally, we offer various thickness and substrate options for our folding cartons line.
Solid Bleached Substrate(SBS) White on Both Sides
Solid Unbleached Substrates (SUS)
Clay Coated Newsback (CCNB) Recycled Board
Kraft Board Strong Virgin Board
Chipboard Brown on Both Sides
Our high-speed flatbed die-cutters offer both precision cut quality and efficiency for a variety of carton sizes and quantities. We can meet your exact color specifications by utilizing our computerized ink blending system. We have the capability to print, some of our folding cartons on our 8 color flexographic press (that can print up to 24 point board stock). This press is also capable of sheeting, die-cutting, in line foil stamping and printing both sides of your carton with a UV coating Our folder/gluers are versatile for long or short runs. We can also add hang tabs, open or acetate windows and fifth panels (currently being used on pharmaceutical cartons).
We maintain a large inventory of dies as well as 12-20 point SBS board stock. If your folding carton requires CCNB, CCKB or recycled board, special orders will be made to your meet your needs and requirements.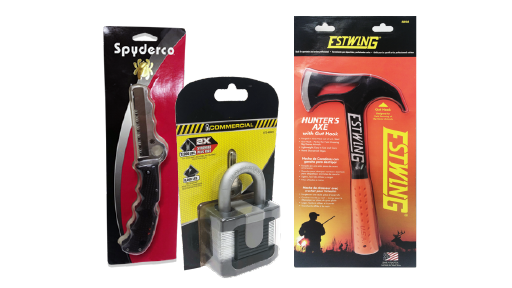 PAX Problem-Solving In Action
THE CHALLENGE: Create a sturdier blister card that can withstand the shipment of a heavier product to Walmart.
The packaging also needed to be retail shelf ready immediately out of the shipping case.
We design blister packs for the consumer goods, food, and pharmaceutical industries. Our blister packs come in a variety of styles, configurations, and material strength grades (for both the paperboard and thermoformed plastic) to help protect your product as well as a wide variety of high-quality graphics printing options to help enhance your brand image to sell more products at retail.
Natralock Trap Blisters
Natralock Packaging, a secure and customizable paperboard made by MWV, offers such a variety of benefits that any product in any retail environment should realize its advantages almost immediately.
Full Seal Design
When sealed in a "trapped blister" design, Natralock's tear-resistance offers a durable package for your product and provides maximum security at the retail shelf. Once purchased, the package is easily opened with a pair of scissors, avoiding the consumer "wrap rage."
Environmentally Safe
Natralock is primarily made with recycled paperboard that can contain up to 15% recycled fibers. It offers a sustainable alternative to traditional clamshell packaging as it can reduce the amount of plastic used by up to 80%.
Quicker, Easier to Seal
Natralock is extremely easy to use and seals 40% to 60% faster than traditional clamshell packaging. It will seal using any standard sealing equipment with minimal adjustments
Glare-Free, Crystal Clear
When properly designed, Natralock packages offer significant glare-free graphic space and a crystal clear view of the product that allows you to promote your brand in any way your creativity directs you.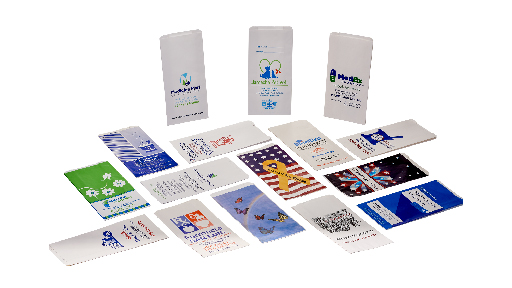 PAX Problem-Solving In Action
THE CHALLENGE: Another company's traditional multi-wall bags were not performing well under shipping conditions. The constant rubbing against the trailer and pallets was causing major bag breakage causing lost of product and clean up costs.
We offer a wide variety of clear, opaque, tinted and custom printed poly bags for retail, industrial and food applications. Available with an easy tear feature for easy opening or an easy seal feature for resealing.
For industrial applications, we offer Polywoven polypropylene bags as an option for protecting products against infestation, bleeding graphics, or breakage. These bags provide exceptional graphics for brand image while protecting your products at the same time.
A polypropylene bag or "polybag" is heat sealed or open at one end and used as a protective shield. They are popular for their low cost, superior performance, and attention-getting power. They may also have an easy tear component for opening.
Laminated woven polypropylene bags are ideal for a wide range of applications due to their multi-wall construction.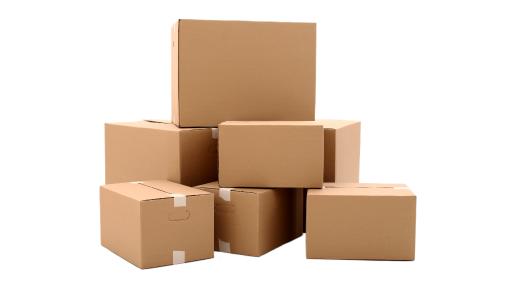 PAX Problem-Solving In Action
THE CHALLENGE: Customers were experiencing broken casters on their mobile medical equipment that resulted in wasted freight costs for shipping broken products, mass complaints from hospitals, and more.
At PAX Holdings Global, we understand that quality secondary packaging is critical in upholding the quality and integrity of your products. Secondary packaging needs to adequately protect your products while being easy to open without causing damage.
Corrugated Cartons are a staple for product packaging for good reason. They are cost-effective, easy to use, recyclable, and can be custom designed to fit and protect your product through varying elements and rigorous supply chain. Availability includes single wall to triple wall construction ranging from Stock RSC's to Custom Die-Cuts and high-performance Bulk Bins and Gaylord's.
Choices range from direct print to spot labeling or full-color litho labels. Pre-production samples ensure both a perfect fit and the most impactful on-shelf marketing message.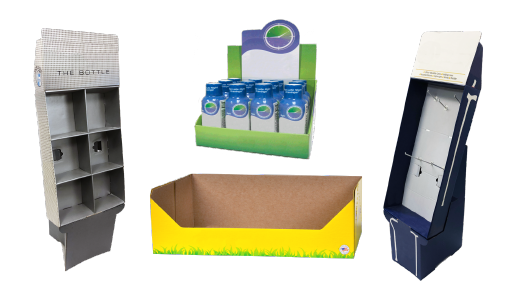 PAX Holdings Global has extensive retail experience to help guide any project to achieve your goals. We offer point of purchase (POP) displays with a variety of unique features and functionality. We can help design your POP Displays in the much desired PDQ format to make the display store-ready. A variety of substrates can be assembled for your project using paper, plastics, or wire components. Printing can run the gamut from food coated sheets and litho labeled, four-color direct process print to a simple one-color print. Using a varnish coating can help prevent scratching while offering a shiny, eye-catching look that is sure to attract your consumer's attention.
Options Include:
Counter Displays
Floor Display Merchandisers
Sidekick Displays
Peg Displays (Hanging or Standing)
Club Store Shelf or Pallet Displays
Clip Strip Headers
Fishbowl Headers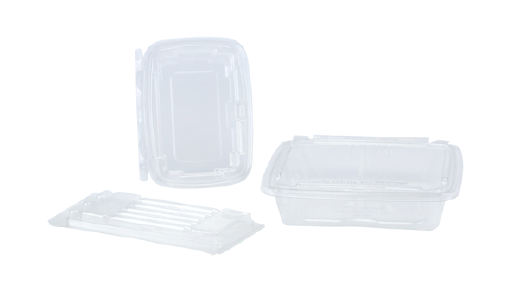 Our clamshell packaging features custom-formed two halves joined by a hinge area which allows the two halves to come together to close. Clamshells are often made of a shaped or thermoformed plastic material, in a very similar way to a blister pack. We offer extensive options for clamshell packaging, made from various materials (PVC, PET, etc.), and are of high clarity.
Custom Clamshells
Clear plastic clamshells are a popular packaging choice for maximum visibility while also protecting your product. We can help you create a custom clamshell, designed to fit your products, including size restrictions and security features. Clamshells can include peg-holes for merchandising, a formed base for the ability to stand on a shelf, or a cut-out that allows the consumer to touch (even try!) the product before purchase.
Semi-Custom Clamshells
Our Insertables Program™ is a unique semi-custom clamshell program that can dramatically reduce the tooling costs that are associated with production in the USA. We help you pick from a group of existing clamshell tools and then add a custom cavity that is shaped to your product specifications. Reduced start-up costs, faster lead-times, and great flexibility define this program. Material and material gauge options are also available.
Stock Clamshells
Stock clamshells are a cost-effective option for presenting your product while also fully protecting and securing it. They make a better presentation than a bag and header package. With the largest selection available, stock clamshells allow you to package your products in a fast and efficient way with no equipment necessary. We can also help you with a printed insert card to make your package sell. Small minimum order quantities make these a great packaging solution.
PAX Holdings Global is your source for custom labels for any industry. Express Labels, Conventional Labels, Process Printed, Numbering & Variable Imaging, Thermal Imaging, Special Die-Cuts, and Custom Label Materials.
Whether you need rolled labels or sheeted pressure sensitive die-cut labels, we can print up to 8 colors for you! Our large inventory of dies, plate cylinders, and laser engraved ceramic anilox rollers can handle your most demanding jobs. By utilizing our computerized ink blending system, we can meet your exact color specifications. We also offer high gloss UV varnish and in line hot foil stamping with our label printing.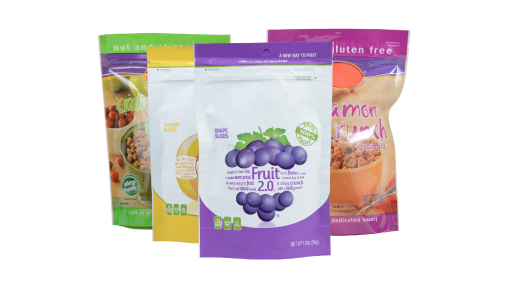 PAX Problem-Solving In Action
THE CHALLENGE: A start-up pet snack company needed high-quality graphic stand up pouches to replace stock bags with labels for a new product launch.
PAX Holdings Global offers flexible solutions for printed film and pouches, which feature high-end graphics, barrier options, various color/finish options, and overall high clarity. We service a wide range of industries and have the ability to accommodate any quantity or type of printed film or pouch.
---
---
Let our team optimize your supply chain and packaging needs to help create efficiencies.